HNKL:#37422-000:PIZZA CUTTER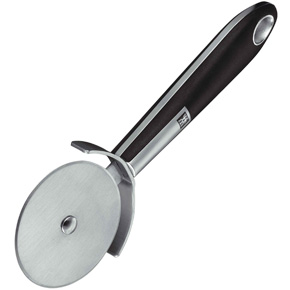 MSRP

$26.00

Price

$22.99

U/M

/ EA

Quantity Available

Part Number

F24361604

Brand

Zwilling
J.A. HENCKELS ZWILLING INTERNATIONAL
PIZZA CUTTER: 7.75" (200mm)
************
-> Zwilling JA Henckels is the largest manufacturer of professional cutlery in Solingen. Their kitchen knives are famous worldwide for quality and design. Working with a JA Henckels knife is a real pleasure. The knives are very sharp and well balanced. Because of the hight quality stainless steel that is used and the Friodur ice-hardening. JA Henckels cutlery will stay sharp for a long time.
We recommend to maintain the edge of these knives with a sharpening steel. A regular sharpening is ideal for daily use and a ceramic sharpening steel is recommended for sharpening blunt knives. Don't believe manufacturers that say their knives will stay sharp for ever; you are better off using the same knives as many famous chef's do. If properly maintained, a JA Henckels knife will last for a life time, or longer!
You may also be interested in:
The following accessories are available for this item.